recently, most of blade and soul players have encountered the problem of login failed 42. how can we solve this problem? today, we would glad to introduce the method to fix login failed 42 in blade&soul.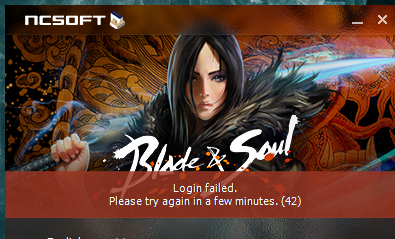 unable to login please try again in a few minutes:

1.username = email-address, which got the alpha-invite
password = the one with which you signed up
2.type your login-info into "notepad" or any other editor and copy and paste it into the corresponding blank space of the launcher; check "remember me"
3. nothing works flawless


if nothing works:

1. use event viewer // manager to identify the cause of errors:
https://www.youtube.com/watch?v=j6vuoyxmu1o
2. if the cause is not found, uninstall blade&soul and launcher
3. delete the "ncsoft" folder (under c: and/or d:) of your client and your launcher (usually the launcher is installed on the ssd, while the client on hdd, so it´s possible that there are two)
4. delete the configuration file of bns under "documents"
5. add bns client launcher to trusted programs in your antivirus program
6. don´t have any other internet-connections or programs running besides ncsoft launcher // installer (security-reasons)
7. turn off your antivirus. go to "task-manager" and kill all antivirus related processes, just to be sure.
8.turn off your firewall - temporary
9. change compability of "bns_lite_installer.exe" to win7/8 and run installation as admin.
10. run "blade & soul" as admin.
11. if it works, reactivate your antivirus program firewall
12. if you could install it, but encounter now problems with the launcher, go to error after / while installing the game . if you already did, go to step 12.

more blade and soul errors you can find solution methods here: https://forums.bladeandsoul.com/topic/138717-guide-errors-installing-game-crash-delay/

more blade and soul news please keepe eyes on dpsvip.com, we not only will offer professional bns guide for you, but also amounts of cheap blade and soul gold you can enjoy in our site.