n the game of rocket league, not only can you buy rocket league items from the platforms, but also you can sell some items you don't need to dpsvip.com, you can also exchange your items with us included the rocket league endo car.
as the rocket league trading is put into the rocket league store market, there are many benefits for customers. you can sell or exchange extra rocket league items for cash, keys, crates or other items you want in the rocket league trading store. we accept a large number of rocket league skins at the highest rocket league trading price in the same business for a long time. and we offer safe and fast rocket league trading for all customers. the colors we got are also the most complete, take endo car as an example. we have stable source of rocket league endo car and sufficient stock. especially that there are more than 10 colors you could choose, this is very unique to us in the same business. you can exchange any color of our rocket league endo car with any of your rocket league items as you wish.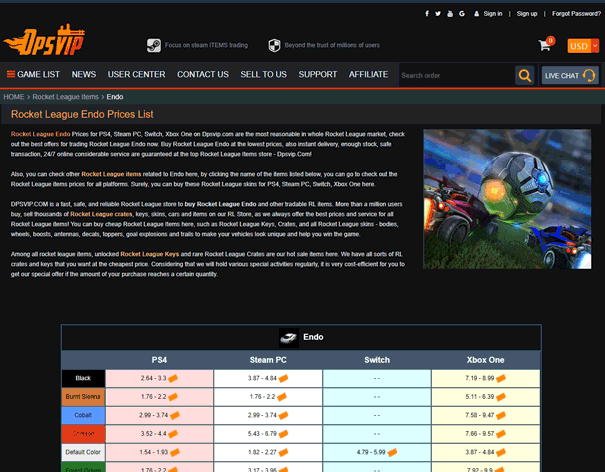 in addition to that, all rocket league decals are available, included the most popular rocket league black market decals, such as god fire, heatwave. so, exchange good rocket league skins with what you don't need, that's very cost-effective. if you have any doubt about that, you can check the rocket league price and more details in https://www.dpsvip.com/rocket-league-prices.
we ensure instant delivery for every customer. welcome to sell or exchange your extra rocket league items to us . all the rocket league skins on steam pc, xbox one, ps4, and switch platform we are selling are legit and safe. if you are interested, please feel free to contact us via 24/7 online livechat.