As a Power-type role in POE, Templar is good at heavy weapons. I have created Templar who uses physical-damage weapons. Moreover, he has high Resistance, high blood and high life back per second. There are more than 5 aura gems for him. Passive Skill Tree and Armours, like crest of perandus pine buckler, are able to convert physical damage leeched back as life.
This is my Passive skill Tree when I have reached currently Level 70. At the beginning of Passive Skill Tree, I choose passives on the left in order to provide about 30% and physical damage. Phalanx is of considerable importance. Then I move toward adding maximum life. Meanwhile, I increase Resistance. On the right, I Coin out the Acrobatics, 20% Chance to Dodge Attacks and 50% less Armour and Energy. So do PHASE ACROBATICS. I increase Armor or Dodge on the down left of Passive Skill Tree. Resolute Technique is necessary. Elemental Adaptation and Diamond flesh is to increase Resistance. Furthermore, Vaal Pact is to return to the blood.
The item that I'd like to introduce is Crest of Perandus Pine Buckler. Crest of Perandus Pine Buckler has physical attack damage leeched back as life and adds over 70 to maximum life.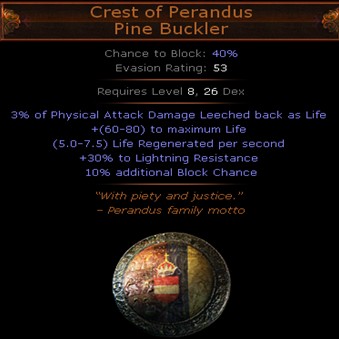 To be able to make life leeched, my main skills belong to physical damage.
HS FA MPD BM
GS FA Increased Area Stun BM
Of course, I add some aura gems to add the capability of fighting. They are Tempest shield hatred grace vitality. Those of gems can add DPS of my main skills and Shield. In addition, shield charge FA BM is used to escape, which add the chances of survival of my Templar.
Basically, I make use of those skills in the battle. When killing Boss or other single monster, I just continuous to using HS. It is easily cross the border. But when facing to a group of monsters, I usually use SHIELD CHARGE. And it can also be used for long-range attack.