Rocket League Season 5 has started for a month, but there is still no news from Psyonix about when the Season 4 Rank Distribution will be published. And many players are still discussing there would be some changes addressed to the Rank Distribution and predicting how will the the Season 4 Rank Distribution look like. Here we list all the confirmed information we can get online about Rocket League Season 4 Rank Distribution, and show you some predicted Season 4 Rank Distribution Graphs.
Will Rocket League Season 4 Rank Distribution Happen?
Yes! About one month ago, when Psyonix posted the Changes Coming for Competitive Season 5 on Rocket League official subreddit, on the comments a player asked Psyonix that: "Could we please get season 4 rank distribution statistics published?", and one of Psyonix's staff Psyonix_Devin gave a affirmative answer. After that, we haven't heard any more news about it. But few days ago, again, a player asked Psyonix_Devin about Rank Distribution on the comment of one Reddit post, and he again confirmed that it'll happen.
When will the Rocket League Season 4 Rank Distribution be published?
Not confirmed yet. As Psyonix_Devin said: "Honestly, just haven't had the time, It'll happen." Psyonix has been keeping busy with the new update and the Rocket League Championship Series? Anyway we guess the Rank Distribution will be here soon, as well as Psyonix updated the very rare trade up.
How will the Rocket League Season 4 Rank Distribution look like?
They are rising star and higher if not, they are at-least challenger elite? Not confirmed yet, some Information the developer gave out is that: For 3vs3 0,21% are in champion, 0,10% super champion and 0,07% of the players grand champion. We have found lots of Season 4 Rank Distribution graphs online. Let's check out 2 graphs we do think are the most acceptable.
Rocket League Season 4 Rank Distribution Graph from Dynamik-99
He made this graph at the basic of below 2 reliable sources:
Source 1: http://i.imgur.com/OrECHZ6.png
Grand Champion target percentage 0.05-0.1%
Source 2: https://www.rocketleague.com/news/changes-coming-with-competitive-season-4/
Champion I, II, and III includes players of skill ranging from Champion to low-end Grand Champion from Season 3.
Grand Champion has been made more exclusive and given a distinct icon above the Champion ranks. It will not be quite as difficult to obtain as the original Season 3 version, but significantly more difficult than post-calibration Season 3.
Rocket League Season 4 Rank Distribution Graph from the_darkest_red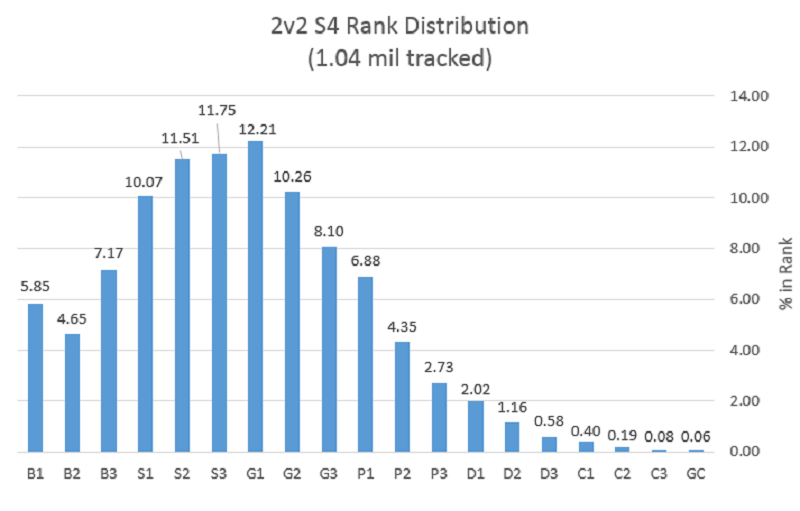 He made this graph for ranked 2v2 in season 4 by using Rocket League Tracker Network's (RLTN) tracker data (found here: https://rocketleague.tracker.network/tracked-players), in order to correct the percentages he took out the unranked players from the distribution.
How do you think these S4 Rank Distributions? Do you think Psyonix can accept these distributions? Anyway we do hope Psyonix will give us this data soon so we don't have to speculate so much. Read More Rocket League News and Guides on our news page. Use VIP Discount Coupon "ROCKET" to buy Rocket League Items on DPSVIP.COM.